Continuing Professional Development
Our commitment to continuing professional development is maintained through attendance at conferences, workshops and supervision sessions.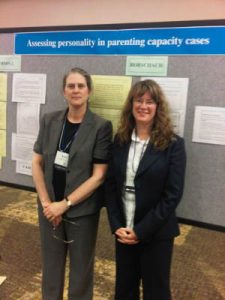 Dr Kari Carstairs and Dr Sarah Hartley attended the annual conference for the Society for Personality Assessment in Chicago and presented a poster on 16th March 2012 about assessing personality in parenting capacity cases.
Assessing personality in parenting capacity cases:
Some UK data and a case example
By Dr Kari Carstairs & Dr Sarah Hartley
Abstract:
Parents who neglect or abuse their children often end up in Court, in dispute with the state over the issue of the termination of parental rights. Such parents usually undergo a psychological evaluation as part of the Court proceedings. In our practice in the UK, we have developed a specialty in the assessment of the parents' personality functioning in order to advise the Court on how personality variables may have impacted on parenting and on whether any remedial measures will restore parenting capacity to a "good enough" level.
In this paper, we present some preliminary Rorschach and MMPI-2 data with a group of such parents. The data is suggestive of certain trends in the personality functioning of these parents. For the Rorschach, we often find that either the Coping Deficit index is positive or Lambda is elevated or both. For the MMPI-2, an elevated Lie scale is often found in conjunction with elevations on scales 4 and 6. We present a case study that contains some of these features. There was a history of domestic violence between the parents which continued into the pregnancy, resulting in the child's placement in foster care at birth. The case study illustrates how personality variables impacted on this mother's difficulties in parenting her six month old son. Such difficulties included being prone to emotional outbursts, having little tolerance for frustration and illogical, inflexible thinking. Her interpersonal problems included a tendency towards superficial, transient relationships, dependency on others combined with an inability to reciprocate, resentment if others made demands on her and hostility towards others who are perceived as threatening. These variables all have direct relevance to this mother's ability to parent.